Data Wiper Tool
Price: $45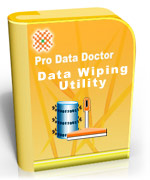 Data Wiper Tool wipes all existing files from your PC and other removable media storage drives such as Pen Drive/Zip Drive/Jump Drive etc. Disk wiping tool deletes or cleans the confidential data files permanently. Removal tool completely erases your personal or private images, files or folders to maintain computer privacy so that no one can view data in your absence. Disk wiping software is capable to wipe the data using secure wiping algorithms for permanent data deletion.
Evidence eliminator provides maximum level of security and increases your system's performance by wiping all sensitive files, unused disk space or entire hard disk permanently which is beyond the recovery. Data eraser tool supports wiping of hard disk drive and removable media in Destructive wiping and Non-Destructive Wiping Modes.
Destructive Wiping: Hard disk eraser's Destructive wiping erases or wipes deleted and undeleted (saved or unsaved) data from the disk space using Entire Disk, Sector Range and Sectors in Partition for system re-installation and better system performance.
Non-Destructive Wiping: Hard disk eraser's Non-destructive wiping erases Unused Space (deleted disk sector data storage area, unused disk space), traces of Internet Activities (cookies, history, temporary internet files, typed URLs), System Activities (administrator's temporary files, clipboard contents, windows event log, recent documents), Applications (MS office, MS management console, MS paint, MS WMP) etc.
Secure eraser utility is the wiping tool that wipes files, slack space, free space, destroy chunks of data even if they're not in a file.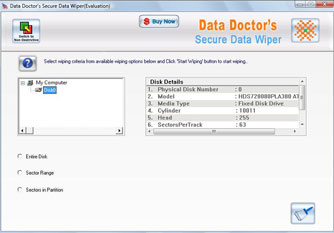 Software Screenshot